Glenn Hammond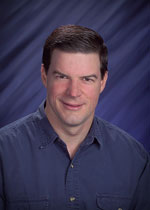 Pacific Northwest National Laboratory
PO Box 999
Richland, WA 99352
Send Email
Research Interests
Development and optimization of numerical models for ultrascale high-performance computing platforms
Numerical modeling of multiphase flow and multicomponent biogeochemical transport
High-performance file I/O
Parallel solvers and preconditioners for ultrascale computing
Conceptual model development tools
Education and Credentials
Ph.D., Civil and Environmental Engineering, University of Illinois at Urbana-Champaign, 2003
M.S., Civil and Environmental Engineering, University of Illinois at Urbana-Champaign, 1999
B.S., Magna Cum Laude, Civil and Environmental Engineering, Brigham Young University, 1997
Affiliations and Professional Service
American Geophysical Union, Hydrology Section
PNNL Publications
2019
Song X., X. Chen, M. Ye, Z. Dai, G.E. Hammond, and J.M. Zachara. 2019. "Delineating Facies Spatial Distribution by Integrating Ensemble Data Assimilation and Indicator Geostatistics with Level-Set Transformation." Water Resources Research 55, no. 4:2652-2671. PNNL-SA-141921. doi:10.1029/2018WR023262
2015
Johnson T.C., R. Versteeg, J.N. Thomle, G.E. Hammond, X. Chen, and J.M. Zachara. 2015. "Four-dimensional electrical conductivity monitoring of stage-driven river water intrusion: Accounting for water table effects using a transient mesh boundary and conditional inversion constraints." Water Resources Research 51, no. 8:6177-6196. PNNL-SA-103949. doi:10.1002/2014WR016129
Scheibe T.D., X. Yang, X. Chen, and G.E. Hammond. 2015. "A Hybrid Multiscale Framework for Subsurface Flow and Transport Simulations." Procedia Computer Science 51. PNNL-SA-107927. doi:10.1016/j.procs.2015.05.276
2013
Chen X., G.E. Hammond, C.J. Murray, M.L. Rockhold, V.R. Vermeul, and J.M. Zachara. 2013. "Applications of Ensemble-based Data Assimilation Techniques for Aquifer Characterization using Tracer Data at Hanford 300 Area." Water Resources Research 49. PNNL-SA-91954. doi:10.1002/2012WR013285
Keyes D., L.C. McInnes, C. Woodward, W. Gropp, E. Myra, M. Pernice, and J. Bell, et al. 2013. "Multiphysics Simulations: Challenges and Opportunities." International Journal of High Performance Computing Applications 27, no. 1:4-83. PNNL-SA-93581. doi:10.1177/1094342012468181
Navarre-Sitchler A.K., R.M. Maxwell, E.R. Siirila, G.E. Hammond, and P.C. Lichtner. 2013. "Elucidating geochemical response of shallow heterogeneous aquifers to CO2 leakage using high-performance computing: Implications for monitoring of CO2 sequestration." Advances in Water Resources 53. PNNL-SA-93583. doi:10.1016/j.advwatres.2012.10.005
2012
Chen X., H. Murakami, H. Murakami, M.S. Hahn, G.E. Hammond, M.L. Rockhold, and J.M. Zachara, et al. 2012. "Three-Dimensional Bayesian Geostatistical Aquifer Characterization at the Hanford 300 Area using Tracer Test Data." Water Resources Research 48. PNNL-SA-78432. doi:10.1029/2011WR010675
Hammond G.E., P.C. Lichtner, C. Lu, and R.T. Mills. 2012. "PFLOTRAN: Reactive Flow & Transport Code for Use on Laptops to Leadership-Class Supercomputers." In Groundwater Reactive Transport Models, edited by F Zhang, GT Yeh and JC Parker. 141-159. Oak Park, Illinois:Bentham Science Publishers. PNNL-SA-68325.
Lichtner P.C., and G.E. Hammond. 2012. "Using High Performance Computing to Understand Roles of Labile and Nonlabile U(VI) on Hanford 300 Area Plume Longevity." Vadose Zone Journal 11, no. 2:Article No. 0097. PNNL-SA-84075.
Zachara J.M., B.N. Bjornstad, J.N. Christensen, M.S. Conrad, J.K. Fredrickson, M.D. Freshley, and R. Haggerty, et al. 2012. Multi-Scale Mass Transfer Processes Controlling Natural Attenuation and Engineered Remediation: An IFRC Focused on Hanford's 300 Area Uranium Plume January 2011 to January 2012. PNNL-21169. Richland, WA: Pacific Northwest National Laboratory. Multi-Scale Mass Transfer Processes Controlling Natural Attenuation and Engineered Remediation: An IFRC Focused on Hanford's 300 Area Uranium Plume January 2011 to January 2012
2011
Hammond G.E., P.C. Lichtner, and M.L. Rockhold. 2011. "Stochastic Simulation of Uranium Migration at the Hanford 300 Area." Journal of Contaminant Hydrology 120-121. PNNL-SA-69786. doi:10.1016/j.jconhyd.2010.04.005
Zachara J.M., B.N. Bjornstad, J.N. Christensen, M.S. Conrad, J.K. Fredrickson, M.D. Freshley, and R. Haggerty, et al. 2011. Multi-Scale Mass Transfer Processes Controlling Natural Attenuation and Engineered Remediation: An IFRC Focused on Hanford's 300 Area Uranium Plume January 2010 to January 2011. PNNL-20257. Richland, WA: Pacific Northwest National Laboratory. Multi-Scale Mass Transfer Processes Controlling Natural Attenuation and Engineered Remediation: An IFRC Focused on Hanford's 300 Area Uranium Plume January 2010 to January 2011
2010
Hammond G.E., and P.C. Lichtner. 2010. "Field-Scale Model for the Natural Attenuation of Uranium at the Hanford 300 Area using High Performance Computing." Water Resources Research 46. PNNL-SA-68798. doi:10.1029/2009WR008819
2009
Palmer B.J., Y. Fang, V. Gurumoorthi, G.E. Hammond, J.A. Fort, and T.D. Scheibe. 2009. "Developing a Component-Based Framework for Subsurface Simulation using the Common Component Architecture." In SciDAC 2009: Journal of Physics: Conference Series, 180, Paper No. 012064. London:IOP Publishing. PNNL-SA-66756. doi:10.1088/1742-6596/180/1/012064
2008
Hammond G.E., P.C. Lichtner, R.T. Mills, and C. Lu. 2008. "Toward petascale computing in geosciences: application to the Hanford 300 Area." Journal of Physics: Conference Series 125. PNNL-SA-62345. doi:10.1088/1742-6596/125/1/012051
2007
Hammond G.E., P.C. Lichtner, and C. Lu. 2007. "Subsurface Multiphase Flow and Multicomponent Reactive Transport Modeling using High-Performance Computing." Journal of Physics: Conference Series 78. PNNL-SA-56216. doi:10.1088/1742-6596/78/1/012025
Hammond G.E., P.C. Lichtner, and C. Lu. 2007. "Subsurface Multiphase Flow and Multicomponent Reactive Transport Modeling using High-Performance Computing." In SciDAC 2007 24-28 June 2007, Boston, Massachusetts, USA. Published in Journal of Physics: Conference Series, 78, paper no. 012025 (10pp). Bristol:IOP Publishing, Inc. PNNL-SA-55881. doi:10.1088/1742-6596/78/1/012025Subsurface Multiphase Flow and Multicomponent Reactive Transport Modeling using High-Performance Computing
Palmer B.J., Y. Fang, G.E. Hammond, and V. Gurumoorthi. 2007. "Component-Based Framework for Subsurface Simulations." In SciDAC 2007. Published in Journal of Physics: Conference Series, 78, 012056 (5 pages). Bristol:IOP Publishing. PNNL-SA-56016. doi:10.1088/1742-6596/78/1/012056
Selected Publications
2005
Hammond, G.E., A.J. Valocchi and P.C. Lichtner (2005). "Application of Jacobian-free Newton-Krylov with physics-based preconditioning to biogeochemical transport, Advances in Water Resources", v28, n4, p359-376.

van Bloemen Waanders, B., G. Hammond, J. Shadid, S. Collis and R. Murray (2005). "A comparison of Navier Stokes and network models to predict chemical transport in municipal water distribution systems", World Water & Environmental Resources Congress 2005, Anchorage, AK.
2002
Hammond, G.E., A.J. Valocchi and P.C. Lichtner (2002). "Modeling Multicomponent Reactive Transport on Parallel Computers Using Jacobian-Free Newton-Krylov with Operator-Split Preconditioning", Proceedings of the XIVth International Conference on Computational Methods in Water Resources, June 23-28, 2002, Delft, The Netherlands, 727-734.