Huidong Li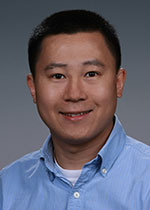 Pacific Northwest National Laboratory
PO Box 999
Richland, WA 99352
Send Email
PNNL Publications
2018
Wang Y, Q Li, S Cartmell, H Li,

SA Mendoza

, J Zhang, Z Deng, and J Xiao. 2018.

"Fundamental understanding and rational design of high energy structural microbatteries."

Nano Energy

43

:310-316.

doi:10.1016/j.nanoen.2017.11.046
2017
Deng Z, JJ Martinez, H Li, RA Harnish, CM Woodley, JS Hughes, X Li, T Fu, J Lu,

GA Mcmichael

, MA Weiland, MB Eppard, JR Skalski, and RL Townsend. 2017.

"Comparing the survival rate of juvenile Chinook salmon migrating through hydropower systems using injectable and surgical acoustic transmitters."

Scientific Reports

7

:42999.

doi:10.1038/srep42999

Wang Y,

SS Cartmell

, Q Li, J Xiao, H Li, Z Deng, and J Zhang. 2017.

"A reliable sealing method for microbatteries."

Journal of Power Sources

341

:443-447.

doi:10.1016/j.jpowsour.2016.12.024
2016
Li H,

C Tian

, J Lu, MJ Myjak, JJ Martinez, RS Brown, and Z Deng. 2016.

"An Energy Harvesting Underwater Acoustic Transmitter for Aquatic Animals."

Scientific Reports

6

:33804.

doi:10.1038/srep33804

Lu J, Z Deng, H Li, MJ Myjak, JJ Martinez, J Xiao, RS Brown, and

SS Cartmell

. 2016.

"A SMALL LONG-LIFE ACOUSTIC TRANSMITTER FOR STUDYING THE BEHAVIOR OF AQUATIC ANIMALS."

Review of Scientific Instruments

87

(11):114902.

doi:10.1063/1.4967941
2015
Li H

, KW Jung, and Z Deng. 2015.

"Piezoelectric transducer design for a miniaturized injectable acoustic transducer."

Smart Materials and Structures

24

(11):115010.

doi:10.1088/0964-1726/24/11/115010

Deng Z, TJ Carlson, H Li, J Xiao, MJ Myjak, J Lu,

JJ Martinez

, CM Woodley, MA Weiland, and MB Eppard. 2015.

"An injectable acoustic transmitter for juvenile salmon."

Scientific Reports

5

:8111.

doi:10.1038/srep08111

Gauglitz PA, JR Bontha, RC Daniel, LA Mahoney, SD Rassat, BE Wells, J Bao, GK Boeringa, WC Buchmiller, CA Burns, J Chun,

NK Karri

, H Li, and DN Tran. 2015. Hydrogen Gas Retention and Release from WTP Vessels: Summary of Preliminary Studies.

PNNL-24255

, Pacific Northwest National Laboratory, Richland, WA.
2014
Cook KV

, RS Brown, Z Deng, RS Klett, H Li, A Seaburg, and MB Eppard. 2014.

"A comparison of implantation methods for large PIT tags or injectable acoustic transmitters in juvenile Chinook salmon."

Fisheries Research

154

: 213-223.

doi:10.1016/j.fishres.2013.11.006

Chen H, SS Cartmell, Q Wang, TJ Lozano, Z Deng, H Li, X Chen,

Y Yuan

, ME Gross, TJ Carlson, and J Xiao. 2014.

"Micro-battery Development for Juvenile Salmon Acoustic Telemetry System Applications."

Scientific Reports

4

:Article Number 3790.

doi:10.1038/srep03790

Li H,

C Tian

, and Z Deng. 2014.

"Energy Harvesting From Low Frequency Applications Using Piezoelectric Materials."

Applied Physics Reviews

1

(4):041301.

doi:10.1063/1.4900845
2013
Brown RS, Z Deng,

KV Cook

, BD Pflugrath, X Li, T Fu, JJ Martinez, H Li, BA Trumbo, ML Ahmann, and A Seaburg. 2013.

"A field evaluation of an external and neutrally buoyant acoustic transmitter for juvenile salmon: implications for estimating hydroturbine passage survival."

PLoS One

8

(10):e77744.

doi:10.1371/journal.pone.0077744
2012
Li H

, Z Deng, and TJ Carlson. 2012.

"Piezoelectric materials used in underwater acoustic transducers."

Sensor Letters

10

(3/4):679-697.
Li H, Z Deng,

Y Yuan

, and TJ Carlson. 2012.

"Design Parameters of a Miniaturized Piezoelectric Underwater Acoustic Transmitter."

Sensors

12

(7):9098-9109.

doi:10.3390/s120709098