Elise Conte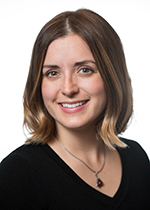 Pacific Northwest National Laboratory
PO Box 999
Richland, WA 99352
Send Email
Biography
Dr. Elise Conte has 10 years of experience in multi-collector mass spectrometry and isotope geochemistry. Since joining PNNL in 2018 as a postdoctoral researcher her work has focused primarily on developing and improving techniques for observing ultra-trace levels of radioisotopes in the environment by thermal ionization mass spectrometry (TIMS). Dr. Conte received a B.S. in Geology from the State University of New York at Oswego and a Ph.D. in Geology from Miami University, Ohio. Prior to joining PNNL, her doctoral research focused on better constraining magmatic residence times and eruptive repose intervals at recently active and explosive volcanoes through the use of uranium-series and radiocarbon dating. Additionally, she conducted research on the applicability of tree bark as a passive biomonitor of contaminants originating from nuclear operations using uranium isotopes and concentrations. Dr. Conte also spent a year as an Oak Ridge Institute for Science and Education postdoctoral fellow with the U.S. Environmental Protection Agency assisting in the implementation process for the Unregulated Contaminant Monitoring Rule. She has performed extensive clean laboratory work in class 100 to 3000 clean rooms separating and purifying trace actinides and other nuclides in both environmental and geological samples. While her doctoral research heavily relied on TIMS, Dr. Conte also has analytical experience with MC-ICP-MS, ICP-OES, SEM, electron microprobe, and XRD.
Research Interests
Mass spectrometry
Applied isotope geochemistry
Nuclear forensics and safeguards
Igneous petrology and volcanology
Education and Credentials
Ph.D., Geology, Miami University
B.S., Geology, SUNY Oswego
PNNL Publications
2019
Conte E.R., E. Widom, D. Kuentz, and Z. Franca. 2019. "14C and U-series disequilibria age constraints from recent eruptions at Sete Cidades volcano, Azores." Journal of Volcanology and Geothermal Research 373. PNNL-SA-136317. doi:10.1016/j.jvolgeores.2019.02.002
Selected Publications
2017
Conte, E. Widom, E., Kuentz, D.C. (2017) Uranium isotopes in tree bark as a spatial tracer of environmental contamination near former uranium processing facilities in southwest Ohio. Journal of Environmental Radioactivity. DOI 10.1016/j.jenvrad.2017.08.019.
2015
Conte, E.R., Widom, E., Kuentz, D.C. (2015) Characterization and transport modeling of uranium particulate from Fernald area tree bark. Journal of Radioanalytical and Nuclear Geochemistry. DOI 10.1007/s10967-015-4388-7.